Welcome to Sisters Remembered Gifts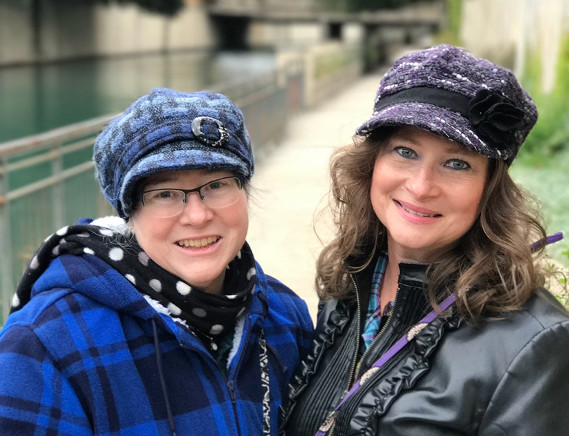 Sisters Pictured: Dena Minars Studstill (left) and Chelan Minars Dras (right).
Sisters Remembered began in July, 1993 after a dream the owner, Chelan Dras had envisioned for many years. Chelan was an elementary teacher and also a partner in her husband's printing business on Main Street in Buena Vista. There was room in the building they purchased in 1990 so they decided it would be a nice combination to have gifts and printing. When deciding what to name the gift shop they chose to honor the memory of Chelan's mother, Beverly, who had passed away suddenly on September 11, 1990 at 62 from a Cerebral Hemorrhage. The name Sisters Remembered is in reference to Chelan's mother looking down from heaven and remembering the sisters she left on earth. Chelan's sister, Dena, lives in Arlington, TX and has a few lines she carries in the shop. Sisters Remembered is a peaceful, restful, sensory experience with beautiful music playing, wonderful smells, soft items to touch and feel, and chocolate to taste.
We have had many wonderful conversations over the almost 30 years in business sharing memories of times with customers and their sisters, sadness over the death of special sisters, and even helping those who do not have the best relationships with their sisters and it makes them realize they want to try to mend those relationships.
Sisters Remembered is full of gift and home décor items for all ages and lifestyles from mountain living, country, and Victorian. We carry children's books, sticker books, plush, jewelry, gourmet food items, men's gifts, home décor, year round Christmas room, gift cards, journals, lotions, candles, cozy slippers, casual nice clothing, outdoor items, Colorado product and souvenirs, collectibles, and many other lines.
When you come to Buena Vista, Colorado be sure to visit us at 315 East Main Street in the same building as Aspen Leaf Print & Copy which provides full service printing, copying, office supplies, and graphic design work.
This family photo features Chelan, Edward J. Minars (aka Dad) and Dena Minars Studstill (aka Sister!), from left to right.  The picture being held was taken at the 40th wedding anniversary celebration of Edward J Minars and Beverly Marie Barby Minars in 1989.